What's new?
Ever since our inception, our focus has been to constantly engineer solutions that aid businesses in moving forward.

Keeping with our commitment to R&D and innovation, we are here to introduce you to our newest products that are built with our customers' best interests at heart. We'll also walk you through some updates our teams have made in the last few months. Excited to know what they are? Let's dive in !
| | | |
| --- | --- | --- |
| Building blocks of success | | Roundup of product updates |
After more than a decade-long journey, our team at Zoho Analytics are still hard at work introducing new functionalities to help businesses unlock insights from their continuously growing data. The culmination of this effort is our next announcement — Zoho Analytics 5.0 ! Let's look into some key highlights of this new update.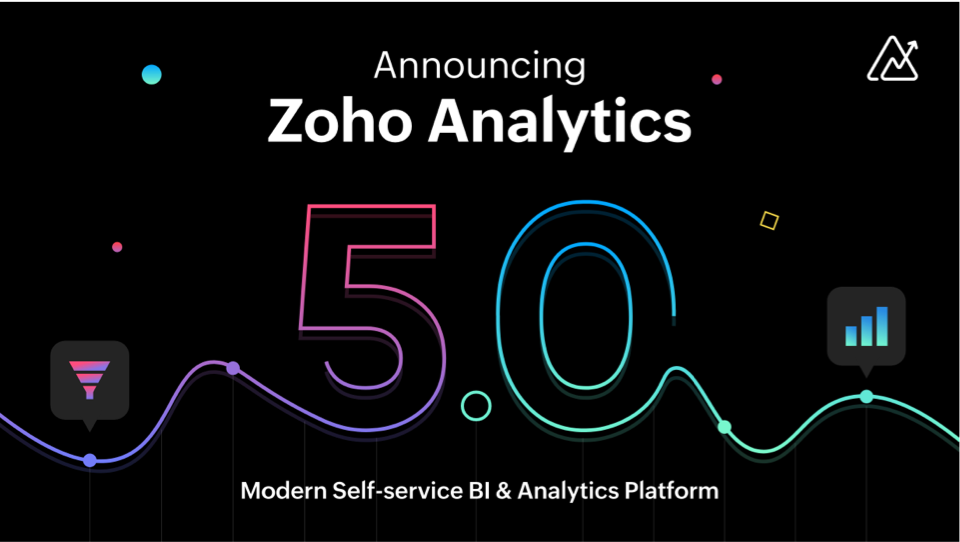 Say hello to Canvas for Zoho CRM
We're thrilled to unveil the industry's first design studio for re-envisioning the CRM experience for enterprises — Canvas for Zoho CRM ! With this new feature, you can redesign the Zoho CRM user interface without writing a single line of code !
The Canvas editor is a user-friendly drag-and-drop design studio built into Zoho CRM, where you can create contextual, immersive experiences for your entire team.
Watch how you can redesign and tailor-make your CRM interface with this all-new feature !
Talking about Canvas, our COO, Mani Vembu, explains:
And the best part? Canvas is available by default in all paid editions of Zoho CRM, Zoho CRM Plus, and Zoho One, at no extra cost.
Starting its journey in 2006, our web-based project management solution, Zoho Projects, has come a long way in that time — with more features, an easy-to-use interface, and industry-leading functionality, all at an affordable price.
It's been quite a journey over these 15 years, with so many successful projects and happy customers ! We decided to take time to look back and celebrate some of our important milestones over the years.
Keep up with what's new at Zoho with this Quarterly digest
Block time and share your availability preferences
Whether you're planning interviews, defining operational hours, scheduling, displaying, or sharing your availability across different time zones, Zoho Recruit can help simplify the process. With Recruit, you can now mark your business hours across time zones and send your booking links directly to candidates via email or embed them on your website. Candidates get the freedom to choose their available dates based on their own time zones.

greytHR for Zoho Recruit
From entry to exit, seamlessly manage the entire employee lifecycle from a candidate on Zoho Recruit to an employee on greytHR. Our greytHR and Zoho Recruit integration allows recruiters and HR managers to attract and retain quality employees, reduce supply costs, free up time for more complex tasks, and improve overall employee performance.

Zoho Assist now integrates with Zoho CRM, enabling users to provide remote support and screen sharing options from their CRM. After adding Assist from the Zoho Marketplace, users can select a contact/lead and schedule or start a session instantly.

Not just that, Zoho Assist now facilitates easy communication with their VoIP feature. Technicians now have the option to switch to phone calls, provided they have the customer's contact number.

Zoho Bookings just introduced a much-awaited feature — video conferencing integration with Zoom. The Zoom integration for Zoho Bookings provides users with the ability to auto-generate Zoom Meeting URL appointments, update meeting details for customers and staff, add meeting details to connected calendars, and much more.

As a big step towards improving your emailing experience and making it easier, we have introduced a completely revamped Admin Console for managing your organization's email accounts.

Stay on top of your emails and to-do lists with Zoho Mail's all new Email Reminders and Snooze. Additionally, after POP support, we now support Zoho Mail as an IMAP client to help consolidate your email accounts more efficiently. Additionally, almost an year ago, we launched Zoho TransMail, with the aim of helping businesses communicate crucial information to their customers through transactional emails. We're now fulfilling the same promise of Zoho Trans Mail with a fresh new name — ZeptoMail. Curious to know what's with the name change ? Read all about it here !

Building meaningful stories with your data just got easier with the Zoho Show and Zoho Analytics integration. With this, all your charts and graphs created with Analytics can now be added to your slides with a simple click. Through the Zoho Analytics add-on, all the workspaces you're part of are available from within the Zoho Show app, and you can easily draw up and visualize data on your slides. Learn more about this integration

Zoho Sign introduced a bunch of new updates to make collaboration easy and secure. Document sharing enables users across the organization to access and track the documents shared with them. Share template is designed to help create segmented access and prevent templates from being readily accessible to all users upon creation. And the USB Signer app on Windows enables users to digitally sign documents using a USB token !
Constellation Research just released its report on our low-code application platform, Zoho Creator. In the report, Holger Mueller, Principal Analyst at Constellation Research, analyses how Zoho Creator has redefined EAPs with its deeply integrated platform.
In the recently announced 2021 CRM Industry Leader Awards, both Zoho CRM and Bigin were recognized by the Editors of the CRM Magazine as one of the best CRMs for midsize and small businesses.
Over to you...
As we wrap up this issue, here's a small reminder from Sridhar Iyengar, our Zoho Europe and UK Head, to all the business owners out there — keep reminding yourself, "this is a marathon, it's not a sprint," and keep going !
While that's all we've got this month, we're eager to hear your experiences with the new updates. If you want to share with us how we can improve our current offerings or just give us a suggestion, hit reply and let us know how we can get better ! We'll share your feedback with the appropriate team or chat with you further.
Until next time,
Zoho Canada
| | | |
| --- | --- | --- |
| | | Zoho Corporation, 4141 Hacienda Drive, Pleasanton, California, USA |